During the era of Donald Trump, during his rise to President and his time in office, the world of broadcast and print journalism brought to our eyes and ears that notion of 'Fake News', articulated so clearly by 'The Donald' as a defence against the many and varied stories his rivals and enemies surfaced against him to bring him 'to book' or 'bring him down'.
False Information has been with us for ever (1), and very much formed part of Charles Dicken's playbook during the 19th century, with 'Fake News' per se emerging in the 1890s, when daily print journalism in the UK, across Europe and the Pond permitted the publication of scurrilous stories and saw the emergence of what we now call the 'Tabloid press'. Back then, such writing won the sobriquet 'Yellow Journalism', and I quote "as Robert Darnton explained in the NYRB recently, the peddling of public lies for political gain (or simply financial profit) can be found in most periods of history dating back to antiquity, it is in the late 19th-century phenomenon of "Yellow Journalism" that it first seems to reach the widespread outcry and fever pitch of scandal familiar today".
In February 2022, we see a perfect storm, in which the Prime Minister of the Day is being investigated by the Metropolitan Police, whose Commissioner herself has resigned because others have no confidence in her propriety and when the second son of our Monarch has chosen to buy off a 'sex claim victim'. On the latter, whilst I rarely applaud the Daily Star, today's front page has it so right: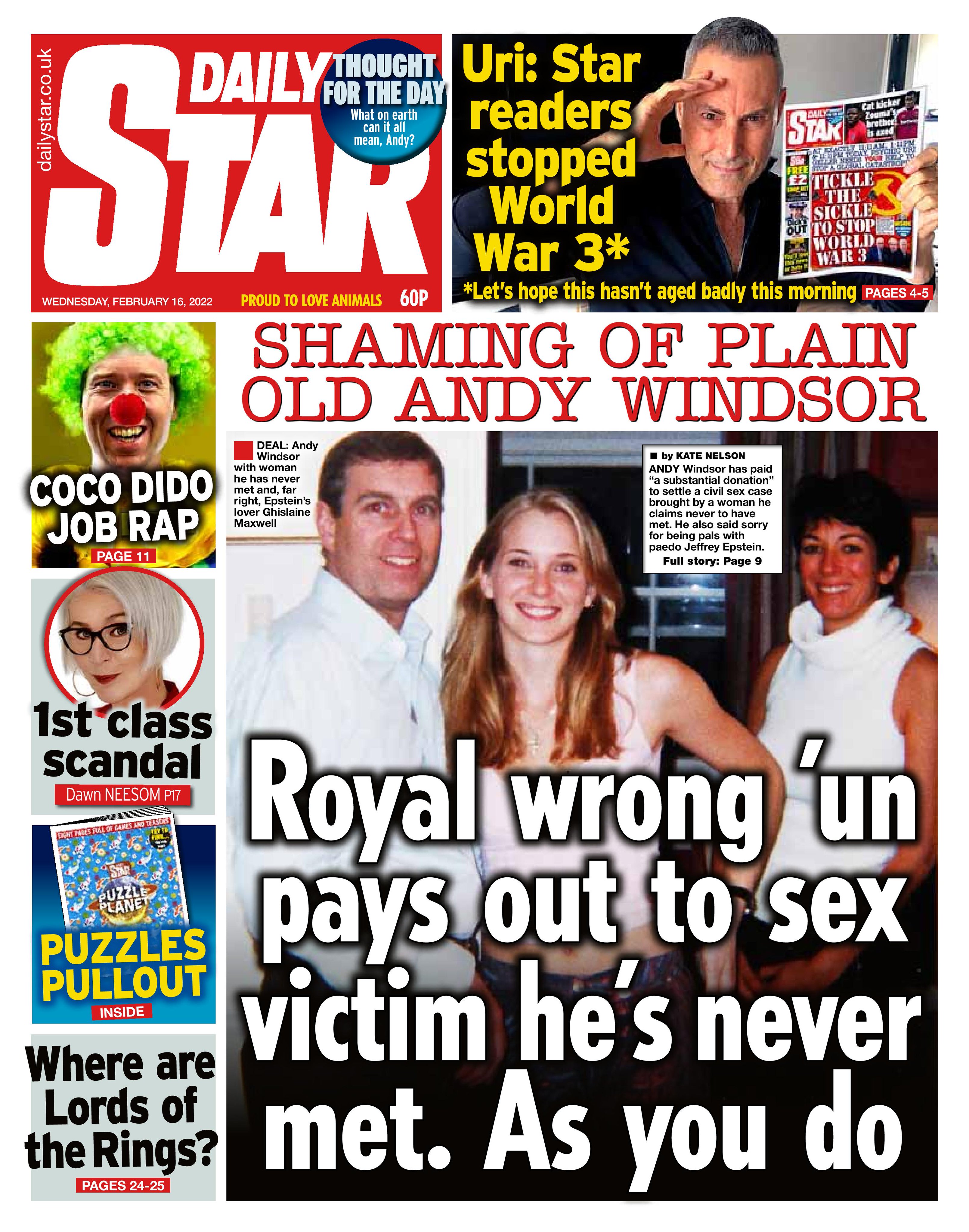 The problems the Prime Minister has seem rather more than whether he has committed a crime in the eyes of the Law, as a consequence of the findings of 'Party Gate', the reports of multiple occasions of drinks events and birthday parties at 10 Downing Street from Summer 2020 to Christmas 2021, all of which seem pretty damning, it must be said. Boris Johnson's far bigger problem is that the Prime Minister may have lied to Parliament, and if that is the case, he'll have no choice, as suggested by his deputy Dominic Raab and so many others in his own party last month, and reiterated today in the Times by a formed Conservative attorney-general, Jeremy Wright, MP for Kenilworth.
How does Dame Cressida Dick fit in anyway into this picture, a public servant of scrupulously clean public character? Her problem is that during her 5 years in office so far, she has been charged with clearing up what independent observers cast as the culture of misogyny and racism within Britain's biggest force. Dame Cressida is on record very recently in suggesting that such behaviour was never sanctioned in the police service and she being personally shocked by the stories of officers sharing images from crime scenes on WhatsApp. The trouble is, as the Mayor of London has highlighted, not only have such crimes occurred before she took charge, but that under her watch, such officers have not only been retained but promoted as well.
I quote from the Guardian article, Feb 10: "Khan had put Dick "on notice" last Wednesday that she had to rapidly reform Scotland Yard or lose his support for her leadership. His confidence in her was shaken to breaking point by a scandal at Charing Cross police station where officers shared racist, sexist, misogynistic and Islamophobic messages. Two of the officers investigated were promoted, while nine were left to serve in the Met."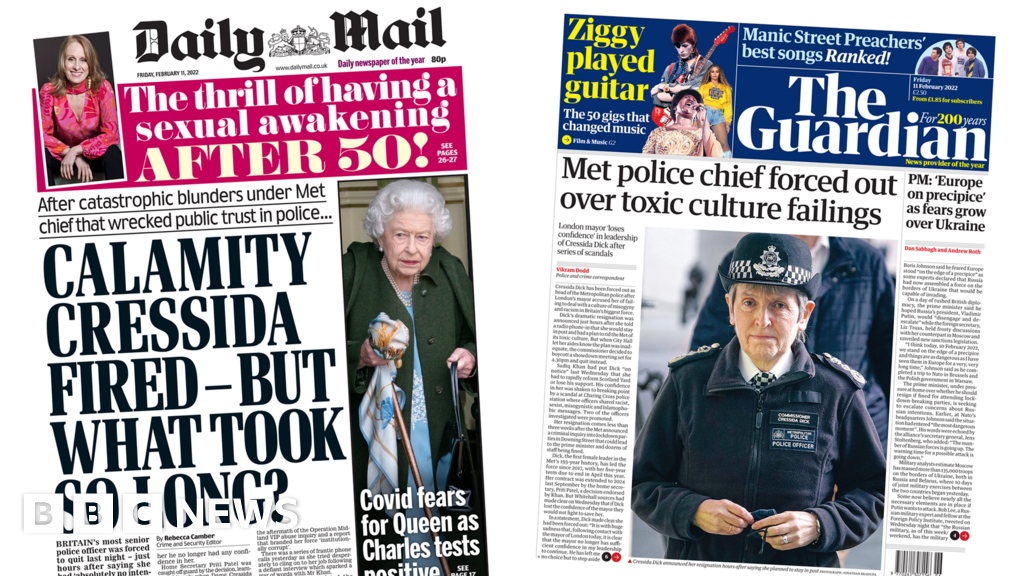 All three stories are about very public national figures in the limelight. Prince Andrew's clear lies and departure from any current standard of truth were highlighted in his television interview with Emily Maitlis, some 3 years ago. Writing last month, Mailtis said this about the directness of her questions at the time: "It is more than two years since I sat down with Prince Andrew in a Buckingham Palace ballroom and posed questions that seemed almost too surreal to ask. It is two years since the world heard his defence – about a birthday party in Woking, a trip to Pizza Express, and his inability to sweat – and shook a collective head, trying to work out what any of it meant. At the time, the specifics seemed almost comical. They spawned memes and riffs, quiz-show questions and stand-up routines. But now, suddenly, they feel deadly serious." To be honest, I don't think we could find anyone today who feels Prince Andrew has any integrity left, not even in his own family.
Cressida Dick has at least chosen to resign, a route left open to professionals who feel they wish to preserve their dignity in the face of public disquiet. I fear it may be too late, in part because so much will now unravel from the very carefully constructed facade of progress being made constructed under her watch. As Robert Verkaik explains in the Independent last Thursday "But the biggest challenges for her replacement – following her sensational resignation, hours after saying she would not go – may come in reforming or removing the dangerous attitudes that have long been allowed to fester among the junior ranks of Britain's largest police service. They have been horribly exposed in the last few months.
The situation has many echoes of the bad old days of British policing – and perhaps they never went away, despite the succession of commissioners who made solemn promises to clean up the Met once and for all. But has the force ever known a crisis like this? In addition to claims of racism and corruption, the Met is also facing a charge of institutional misogyny.
Evidence is so widespread that they can no longer be dismissed by the reflex response that the good name of the service is being besmirched by a handful of dodgy cops involved in isolated incidents. The problems run deep."
In recent years, Public Figures across the globe have made it clear that they are subject to the most disgraceful smears, and that 'Fake News' and its parent 'False information' have been their watchwords as they try to rise above the vast lake of social media posts trying to 'take them down'.
Sometime soon, both the Met Police and the Cabinet Office will publish their full findings on the 'Party Gate' scandal, and it's a brave commentator that calls those to be yet another set of 'Fake News' so that Boris Johnson will survive. To independent observers such as those in Education, for whom truth, respect, responsibility and integrity are by-words for how our school communities are to thrive and grow, I celebrate that certainty we offer our leaders of tomorrow in these core values, and always wish that those in higher authority would bear true witness to them too.