Appointment to Assistant Headship, Claires Court Junior Boys, Mr Eric Leuzinger BEd
As our school community knows, Jeff Watkins, Headmaster of our Junior Boys school is to retire at the end of this academic year, and his successor is Justin Spanswick, currently Assistant Head (Pastoral). Jeff and Justin are working really closely, together with Deputy Head Susan Payne and Judy Nott, Assistant Head (Timetable) to ensure we have a smooth transition. I am delighted to announce that Eric Leuzinger has been promoted to take over as Assistant Head (Pastoral) with effect from September. I commenced my teaching career at Claires Court with Mr Leuzinger present in my Year 7 Science class in 1975, I taught him quite a bit of what he knows, and we shared a love of practical gadgetry! After Claires Court, Mr Leuzinger completed his secondary education at RGS High Wycombe, before putting his love of the scientific and technical to work in the Air freight, Construction and pest control industries. It was clearly his last experience that took him to University (Westminster College, Oxford)  as a late entry into teaching, and he started work with us as a Year 6 teacher in 1999. He is married to Lynn (also a primary school teacher) and their son Jake is a graduate of both CCJB and CCSB! I am sure those who know Mr Leuzinger will be delighted for him, and for the school at large. He is a remarkable practitioner, interesting, interested in his pupils, firm and fair. Here is Eric, i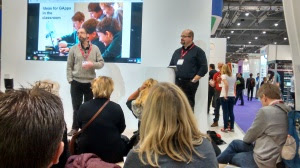 nvited to present from the Google stand with Chris Rowan at BETT this January on collaborative working using cloud technologies.
William Hutchison Murray, author of the title quotation (and mountaineer), is to be commended for the directness of this call to arms. It seems he wrote these lines after making a downpayment on a boat passage for a planned Scottish Himalayan exhibition in 1951.  The certainty that the party would travel (or lose their money) stiffened the climbers sinews and such like. Sadly, despite his best efforts, Hutchison didn't make the grade as a highest altitude climber, and missed out on the 1953 conquest of Everest by Hillary and Tenzing. However he directs us to be bold, and we are being just that…
New Campus Consultation
A big thank you to all those parents – over 100 of you – who visited our exhibitions two weeks ago and gave us valuable feedback.  Your insights are already informing the architectural team as they develop alternative design concepts in this phase of the development.
During the three days you told us:
*         You like the present "diamond" structure of separation of boys and girls and want to see this maintained
*         You think the co-educational arrangements for Nursery and Sixth Form work well
*         You value the existing intimate, familiar "feel" of our buildings and wish to see this preserved
*         Also the small class sizes, the caring environment  and the good pastoral care that we provide
*         Your preference is for separate entry and collection points at the beginning and end of the day for juniors and seniors, boys and girls
*         You want a better access from Cannon Lane than the present driveway and good car parking availability
*         You are excited at the prospect of more and better facilities available to all on the one site
Many of you also kindly completed a short questionnaire about the project.  I don't think it will come as a surprise that an analysis of the early returns shows us that you think the most important aspect of the project is to provide a better environment for teaching and learning just ahead of the concept of a single campus destination.  Interestingly more of you put consideration for the wildlife slightly ahead of designing energy efficiency and sustainability into the new buildings!  Also it does appear that if you are a parent of a senior boy or girl you are slightly more relaxed about the opportunities for boys and girls to mix away from the classroom.
For every parent who visited there were about 7 families who weren't able to come and see our exhibition.  We would like you all to be able to do so and have therefore set up a special website<http://www.clairescourt-consultation.co.uk/> – with the details from our display boards.  One of the webpages has a timeline which will help you understand how our consultation will progress.  You will also be able to share your own thoughts about these proposals by completing the short questionnaire online.
Please let us know!
And finally…
Murray's full quotation is: "Whatever you can do, or dream you can do, begin it. Boldness has genius, power, and magic in it. Begin it now! "