It's been a tough term so far for the blogger in me; writing the weekly roundup for the Senior Boys school under time deadlines seems to kill my muse for other writing. In addition, creating new assembly material that threads the boys' & girls ambitions, hopes and dreams is also a great challenge, because it is only as they reach the latter end of term can you and they actually see their hard work come to fruition. I could here be speaking of the academic results they are achieving in their summer exams, though equally it could be of their artistic and sporting endeavours too. Currently my teaching colleague are crafting the pupils' annual reports to celebrate that has been achieved in school, whilst in competitions at regional and national level, we begin to see the 'writing' too, this time the sports men and women adding their names to regional teams or winning entry to the finals out right. We have 2 boats prequalified for Henley, the first time on our Rowers' history. The male and female tennis teams have reached the National Finals in Nottingham in early July, again a school first. The sailors have just completed their national dinghy championships, respectably placed in the top 10 in their respective Feva (younger) and Firefly (older). We have 2 teams in the Country cricket finals on Wednesday, and our ISA London West team members have learned today that they were the leading school component in our area from the national organisers.
By any measure, this summer's sporting achievements look quite extraordinary for any school, though I have learned to treat such vanity as the imposter it is. Parents seeking private school are careful in choosing a school that's a best fit for their child, and the ambition they have assists in driving their children onwards. That's not say our people are pushy, actually far from it. But what we and they seek in common is to promote and support the development and interest in excellence, and the sports lend themselves to building skills and passion in abundance. 2 of our cricket sides have made the county finals, and the under 13 site are to be congratulated for winning their final yesterday; it's one thing to nurture cricketers, quite another to ensure the ball bounces the way you wish on the day – witness the current perilous position of the England 'favourites' cricket squad in the World cup round robin currently being played.
I've been recently reading a great book by Michael Blastland, entitled "The Hidden Half: How the World Conceals its Secrets". Here's the marketing puff that encouraged me to buy it: "
"Why does one smoker die of lung cancer but another live to 100? The answer is 'The Hidden Half' – those random, unknowable variables that mess up our attempts to comprehend the world. We humans are very clever creatures – but we're idiots about how clever we really are. In this entertaining and ingenious book, Blastland reveals how in our quest to make the world more understandable, we lose sight of how unexplainable it often is. The result – from GDP figures to medicine – is that experts know a lot less than they think. Filled with compelling stories from economics, genetics, business, and science, The Hidden Half is a warning that an explanation which works in one arena may not work in another. Entertaining and provocative, it will change how you view the world."
I've been using one of the stories from the books in my Assemblies recently, that of the Marmorkrebs, an invasive american crayfish sweeping through Europe and eating everything in its way. You can read more about its effect here: https://blogs.scientificamerican.com/guest-blog/the-decade-the-clones-came-beware-the-mighty-marmokrebs/
Blastland's highlight of the marmorkreb though is for other reasons, though linked to the genetic DNA of this wee beastie. It turns out that identical Marmorkreb populations kept in similar tanks and looked after by the same researcher in identical ways rapidly diverged in terms of physical size and morphology. Now that should not happen, because what generations of Twin studies have shown us is that what we do and how we behave is a mix of environmental and genetic factors, and since the genes of these crayfish are the same and the environment has been the same, then the offspring should be the same. Far from it as Blastland's Marmorkrebs are concerned, one set not just growing much bigger than the other but their internal organs decided to change in layout etc. quite dramatically, providing compelling evidence for Blastland's proposition that much of the data we need to explain how stuff happens remains hidden from us.
And there is plenty of other research now surfacing that is confusing the Department for Education in its drive to raise academic standards in schools. A co-authored study between the Universities of Adelaide and Bristol, published last November, has examined long-held beliefs that success in school and careers is due to more than just high intelligence, and – guess what – "Non-cognitive skills are also important". The problem with the research around this topic is that it simply hasn't been good enough; it seems we know that much of what we need to have done to improve the brain's cognitive function needs to have happened by age 12. Working children academically is important to raise the measurable cognitive levels, but we also have to raise the non-cognitive too.
Professor John Lynch, School of Public Health, University of Adelaide is senior author of the study and has this to say: "Traits such as attention, self-regulation, and perseverance in childhood have been investigated by psychologists, economists, and epidemiologists, and some have been shown to influence later life outcomes. There is a wide range of existing evidence underpinning the role of non-cognitive skills and how they affect success in later life but it's far from consistent." In short, the problem with focussing on Key stage 2 outcomes in Literacy and Numeracy and rating primary schools as good or outstanding on same is clearly going to affect the school's curriculum provision – why spend on the arts, music, drama or physical education when these don't lead to improvements in 'measurable' school performance.
The Independent Sector continues to be berated for the apparent domination it has over the leading figures in public life. One of the most influential Education think tanks is the Sutton Trust, and its tudy, Elitist Britain, was puboished 2 days ago, having looked at the schools and universities attended by 5,000 high achievers at the top of business, politics, the media, public organisations, creative industries and sport.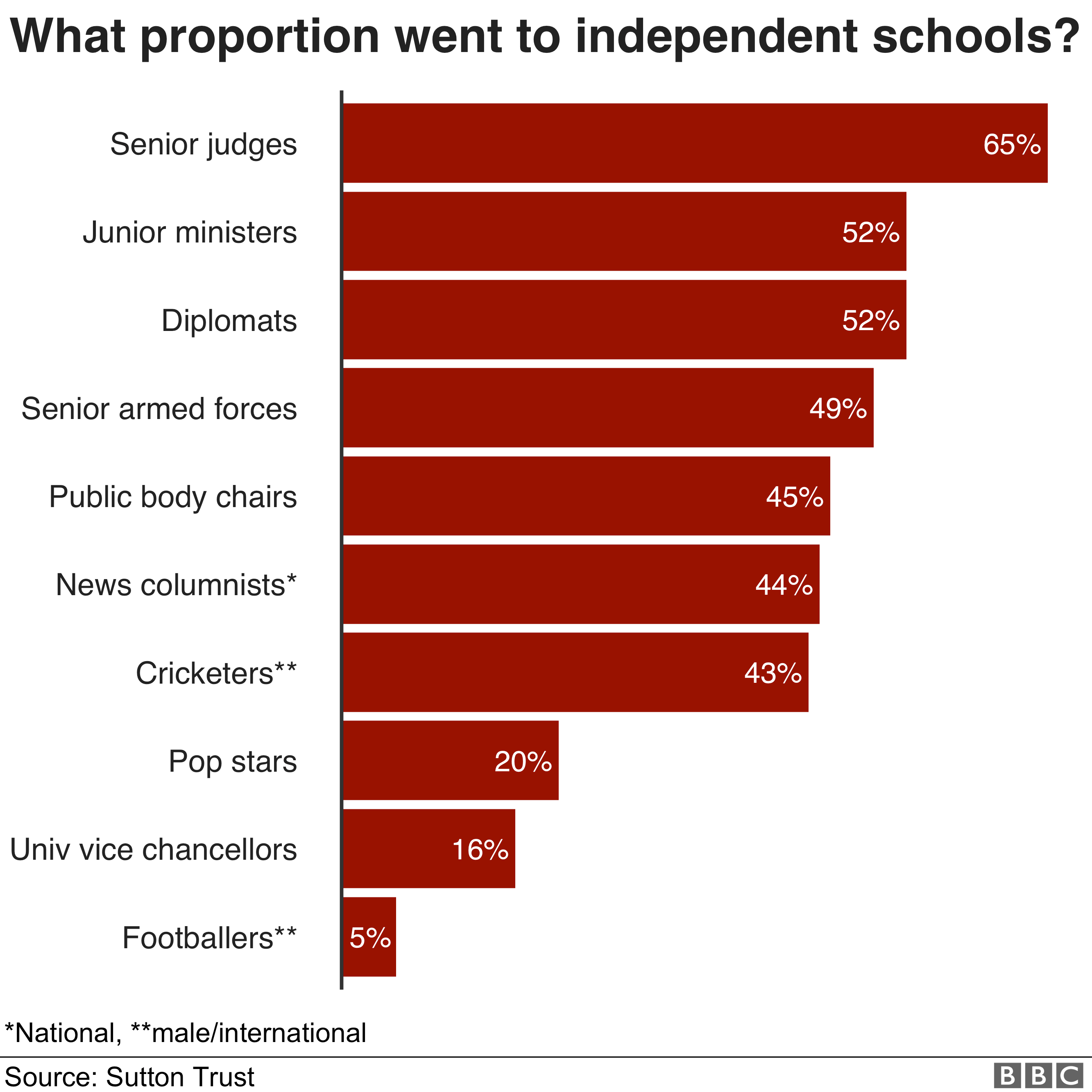 I quote from the recent BBC article on the report:
It might not be a huge surprise that the upper ranks of the judiciary, the diplomatic service, the armed forces and public bodies are stuffed by a disproportionate number of former public-school pupils. But it might raise an eyebrow that today's pop stars are more likely to have gone to private school than university vice-chancellors – 20% compared with 16%. For the purposes of this survey, a "pop star" is someone from the UK who has had a top 40 selling album in the past four years.
This echoes warnings that the creative industries, once an express train of social mobility, are increasingly becoming populated by the offspring of wealthy, well connected parents. But pop stars are out-poshed by international cricketers and national newspaper columnists, defined as those covering news, politics and policy rather than other "lifestyle" writers. In terms of the overall "power gap", the report says 39% of people in these elite groups were privately educated, compared with 7% of the population.
I listened to Sir Peter Lampl, founder of the Sutton Trust speaking on the radio about their findings, and the point he makes so clearly is that it's not the 'private school' per se that is making the difference, but the provision of a fully rounded education therein that's leading to this effect, which can only grow and extend if our state schools are not funded to do the same. Here's a linkn to that morning's BBC Radio 4 Today Programme, featuring Sir Peter Lampl, chairman of the Sutton Trust, and Scott Baker, head of LAE Stratford. Listen from 50:43. As Mr Baker makes clear, the London Academy for Excellence is proving that great state schools can do great things if the resources are provided, but as state schools have to cut to make budgets work, then excellent outcomes in all fields is going to be compromised.
Causation is not the same as correlation, and as Blastland's book reminds us, many of the influences that make great things happen can't be accounted for. But it remains a sobering thought that schools must set out to inspire their children to love being alive and to value the things they are good at and encourage them to excellence in as much as possible. Children in poverty living within reach of the spires of Oxbridge and the City do just that, surrounded as they are with the evidence that great things happen. Out in more rural parts of the UK and elsewhere, without that inspiration being visible, children's aspirations are quickly curtailed to those that are practically possible. In the heartlands of the States, perhaps the only route out is via the US military, not the kind of binary choice I have chosen for my children it must be said.
The various Arts, Drama, Music and Sports festivals in our school are now well under way, and compete with everyone's time in equal measure. The A level Art, Photography and textiles exhibition of work 'academic work' created to satisfy the examination boards seems to have done both that and inspired its audience of visitors. The range, riskiness and invention of the artists is so clearly there to behold; students have taken the opportunity both to meet 'criteria' and challenge themselves and their audience with their chosen approaches and media. Perhaps like our athletes, cricketers, rowers and sailors, they simply couldn't have dreamed of achieving such standards 5 years or so ago, but given time to breathe, absorb and understand the possibilities available through disciplined hard work, they too have excelled beyond imagination. And that's the point of working so hard to provide within education – provision is not everything, but it does provide the 'lifeblood' we can bottle and pass on from one generation to the next. And that has a cost, both in terms of money and time, one readily measurable, the latter often defeating the former – children need time more than anything.